The Club Tread Report ®
Issue 2.3
What's inside... Tech Tips, Product Reviews, and other cool stuff!
---
The Bike of the Year as chosen by Mountain Biking Magazine is the Rocky Mountain Hammer. The only surprise in this award is that Rocky's achievements took so long to be recognized! The Hammer has been a bike of consistent high value and versatility. Built as a bike for all round use, the Rocky Mountain Hammer has had a loyal following for years. At $1,027.97 US or $1,369.98 Cdn, this year's Hammer has already won the attention of many customers looking for the best deal of '96!

Here is what the Hammer offers: a Tange double butted custom cro-moly frame with Ritchy dropouts, two waterbottle braze-ons, and top tube cable routing. The wheels are hand built by Wheeltech in Vancouver using Ritchy Rock 440 rims, 15 gauge stainless steel spokes, and Shimano LX hubs. The drive train is Shimano LX front and back with Gripshift 600 shifters. Up front is a Rock Shock Quadra 21R. Other nice features include Ritchy clipless pedals, Vetta saddle, forged alloy stem, WTB tires, Dia-Comp Ahead headset, and a paint job that is nothing short of stunning. Attention to detail is a Rocky Mountain trademark and this can be seen in the Hammer by the use of the Sedi Sachs MC-40 chain -- not a flashy upgrade but a subtle improvement showing Rocky's total commitment to quality. Check out the Hammer at Brauns Online today.

At Specialized, building bikes for the masses has been a mission. While producing innovative bikes and accessories that push the limits of cycling technology, the goal is always to make a better bike for a better price. The Rockhopper A-1 FS is just such a bike. Built around Specialized's aluminum A-1 frame set, it offers many innovations available only from Specialized. A-1 Premium aluminum tubing, Direct Drive(tm) chain stay, and Pro-fit(tm) geometry set this frame apart from other bikes in this price range. Outfitted with Shimano STX components and Rock Shock Quadra fork, this bike offers high tech features at an affordable price of only $824.98 US or $1,099.98 Cdn.
Special Production Run
Braun's has just been authorized an additional allotment of Hammer's at a special price of $974.99 US or $1,299.99 Cdn, available mid-May. Place your orders ASAP. When their gone, their gone for '96. To ease the pain of waiting... Braun's is including bar ends at no charge.
---
The K-W Sales and Add Club, The Record, & CKCO TV recently honored Braun's Bicycle and Fitness as Retailer of the Year for its innovative advertising, promotional, and customer service excellence. After reaching the finals, "Mystery Shoppers" picked the winner based on their actual shopping experiences.
---
HED Wheels
Started in 1985, HED Wheels are the originators of the composite wheel, and the Cx still rates as the standard in aero testing. The secret behind HED Wheels is the integrated shape of the rim and deep section to produce a true aerofoil shape. The rigidity of the rim also makes it possible to design a strong, stiff wheel with the minimum number of spokes, thus keeping wind drag to a minimum.

Unlike other composite wheels, HED Wheels minimize the perimeter weight of the wheel, and thus reduces rotation weight. Another key feature behind HED Wheels is the aluminum braking surface, which has far superior braking properties over carbon-fibre in wet conditions.

There are 5 models in the HED line-up: the J2, the Jet, the Cx, the Deep, and the Disc. The J2, referred to as a mid-deep, is designed for triatheletes, road racing and criterium racing, and racers concerned about crosswinds. The Jet is an economical version of the Cx that features a molded deep section bonded to the rim that is almost identical to the Cx in aero performance. The Cx is a true deep section rim that features more rigidity than the Jet, and is the best overall wheel as far as aero properties and handling characteristics are concerned. The Deep features almost the same aero properties as a disc without being as affected by crosswinds. The Disc still remains the most aero-dynamic of all wheels, but can prove difficult to handle in certain wind conditions.

The Sonic Hub is HED's version of an advanced design hub. Featuring straight pull spokes, it provides a 30% gain in spoke strength, and features sealed roller bearings for minimal friction. When laced to a HED rim, the resulting wheel is aerodynamic, stiff laterally and torsionally, strong, lightweight, and freeĞrolling: all the characteristics required in a great wheel!
Syntace Aerobar
The Syntace C2 clip-on is the lightest aerobar on the market and the only one made of 7000 series aluminum.

The C2 is anatomically designed to match the configuration of the hand and forearm, and is available in 3 sizes according to forearm length. The Biowing forearm pads have 5cm of adjustment and the bars can be independently installed to give the widest range of set-up of any aerobar on the market.

Not only is the fit comfortable, but the C2's design using ovalized tubing offers up to 8mm of controlled vertical damping, and is referred to as "Suspension by Design."

The C2 can be fitted to any handlebar, requiring only a 5mm allen key to install, and can accommodate any shifting system. A complete line of accessories from lifters to computer mounts makes Syntace the preferred choice of most elite triatheletes, Michellie Jones, Simon Lessing, and Canadians Mark Bates and Peter Reid among them.
---
On April 26th and 27th at the Conestoga Mall (Waterloo Ontario Canada), Fairview Park Mall (Kitchener ON Can.), and the John Galt Mall (Cambridge ON Can.), the Cycling Club will have a booth in the "Cavalcade of Safety." Come in say Hello! Also, you can can find out all about the Club and pick up a registration form.
"Why I like Riding with the Cycling Club"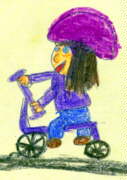 -- by Becky Braun (age 8), Cycling Club Member for 2 years.

"It's really cool riding with the Cycling Club... you make a couple of friends. I might be riding my own bike this year.

This year me and my sister and dad really like the cycling club. Lots of people have joined. I have made a friend, her name is Katie. I hope my Mom and brother can join the cycling club."




Read about the upcoming Cycling Club Registration.
---
Circa 1949
"Pixie" bicycle motor - a gas powered motor was a popular bike accessory!
---
Club Tread - This Month's Specials
"A changing selection of bicycle accessories - Always On Sale - Changes Every Month!"
Each month, Club Tread offers specially selected cycling products at greatly reduced prices to those on its mailing list. The selection is different each month. Prices are usually 25% - 50% off.
These specials, including pictures, are available at the Club Tread Monthly Bike Accessory Specials web site located at: www.brauns.com/specials
The current specials are usually only available for one month, and only while supplies last. Shop early to avoid disappointment.
Club Tread -- Where You Save Money!
---
A lot can happen to your idle bike during the long, cold winter months; someone may back into it in the garage, perhaps a rat will chew through your tires, or maybe the Rust Monster®(tm) will take a few nibbles on your cables. Regardless, don't wait until the first nice day of spring to find out your bike needs work -- check it out now!

First, check your tires. Tires bleed air over time, often becoming flat by the spring. Pump them up to the recommended pressure, then look them over for signs of excessive wear, bulging, or cracking.

Second, examine cables and casings. Storage in a damp basement or a cold garage usually results in rusty cables. Considering the high tensile loads experienced by gear and brake cables, any amount of corrosion can cause failure. Replace them as necessary. Besides, new cables are a cheap way to increase your bike's performance.

Next, lubricate anything that moves. Clean the dirt from your last autumn ride, then squirt, spray, and drip like a madman (er, madwoman... madperson?).

Then simply look everything over. You don't have to be a master mechanic to notice certain problems like a cracked frame, or wobbly wheels, or a loose handle bar. Make sure everything is tight -- if in doubt, check with a qualified Braun's mechanic.
---
| | |
| --- | --- |
| | Roger is quite involved, not only on the floor selling, but also on the road having fun with our weekly Cycling Club. Roger is actively involved with running and organizing the Cycling Club and encourages all who are interested in some recreational cycling to come out and join in the fun. |
---
Robert's Raaaaave!!!
U.S.E. Suspension Seatposts
Take the edge off your ride with a shock absorbing seatpost. Great for mountain bikes, hybrids, Tandems, and road bikes.
Reg. $229.98 Cdn, Now only $149.99 US or $199.99 Cdn
Sale ends April 31, 1996
Braun's Bicycle and Fitness
27 Scott Street
Kitchener, Ontario, Canada
N2H 2P8
"Serving fitness and cycling needs since 1925"
E-mail: online@brauns.com
Fax: 519-579-8723
Phone: 519-579-BIKE

Internet Web Site: www.brauns.com
---
When: Tuesday May 7, 1996 @ 7:00 pm.
Where: 27 Scott St., Kitchener, Ontario, Canada
Cost: $39.00 Cdn including tax

Members receive: club tee shirt, manual of all club rides (including maps), discount coupons, and membership with Braun's Discount Club.

For details, contact the club coordinator by sending e-mail to: club@brauns.com
---
Note: Any prices mentioned within this report do not include any applicable extra charges such as shipping and handling, etc.
---
We hope you enjoyed this issue!
The Club Tread Report
---

Return
---
Click here to find out how to get on the mailing list for the Club Tread Monthly Newsletter.

Or use the easy form located at www.brauns.com/list.

Any questions regarding subscribing to the mailing list, or about the content of this or other issues, the Tech Tips, Product Reviews, etc., may be sent by E-mail to info@brauns.com.
---
The Club Tread Report

Return
---
The material on this web site, including without limitation The Club Tread Reports, is Copyright © 1996, Brauns Online. All rights reserved. "Club Tread Report" and "The Club Tread Reports" are trademarks of Club Tread. All other trademarks are the property of their respective owners.
Another Web Site by BusinessLINK Technology Group Inc.
http://www.bltg.com/ctreport/