The Club Tread Report
Issue 2.1
What's inside... Tech Tips, Product Reviews, and other cool stuff!
---
This year, all major bike companies will have at least one fully suspended bike in their lines. With so much to choose from and with so much hype, how does one select the right full suspension mountain bike??? Lets look at three of the four most common designs, the Proflex "AMP" style, the Giant "link" style and the Softride "rider suspension" design. We will look at "Unified Rear Triangle" (URT) designs in another issue.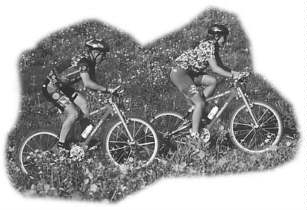 Within the AMP style of rear suspension, many companies provide a multitude of variations. The Proflex is the most successful of its kind. With several awards for design, many NORBA victories and a long history of innovative bike design Proflex is worth a close look.
Key to the Proflex success is the patented "Dig In" technology. This allows a Proflex to remain plush and active in the big and middle chainrings, while pulling the rear wheel into the ground when in the small chainring, improving traction. Another feature key to the Proflex design philosophy is that the suspension can be easily serviced and adjusted. The Girvin MCU springs can be easily changed and lubed without special tools. Overall, the Proflex bikes offer low maintenance, light weight and a respectable parts mix for your money. Proflex bikes sell for $1,499.98Cdn and up.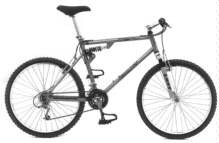 Giant offers three full suspension bikes this year. All use a linkage type of rear suspension. This may become the most popular design because it looks the most normal. With the help of world champion mountain bike racer John Tomac, Giant has produced a bike that is sure to win the hearts of many cyclists looking for a more comfortable (and race winning) mount. The Giant ATX 970 sells for $1,099.98Cdn, making it one of the most affordable full suspension bikes on the market.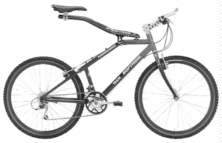 Daring to be different, Softride bikes are like no other. Softride suspends the rider, not the bike. The concept is that as the wheels of the bike follow the terrain the bike is free to move under the rider, just like standing allows your arms and legs to act as shocks on a rigid bike. Only Softride lets you stay seated and continue pedaling through the rough without loss of power and less fatigue.
Softride bikes are certainly unusual looking... Will the beam break? Does it bounce? Will my friends laugh at me? The answer to all of the above is no! The beam is designed to give a smooth controlled travel sparing you from the harsh realities of cycling.

So what bike to buy? Come in and see these bikes at Braun's and we will help you pick the perfect bike for your needs.
---
When it comes to high performance mountain bike components, Raceface is a legend. Raceface cranks and bottom brackets are world famous. The cold forged Turbine LP crank is not only lighter than Shimano's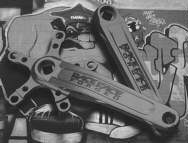 XTR crank but it is also significantly less expensive. The LP crank is first cold forged for strength, then CNC machined into a sexy 430 gram crank. They come in 170, 175, and 180 mm sizes and are offered in a wide range of colours. A set of Raceface Turbine LP cranks can be yours for only $269.98Cdn.

To get the most out of your Raceface LP crank, we recommend the Raceface Turbine RS bottom bracket. Bottom brackets are often forgotten about when buying or upgrading a bike. However, when one considers the mud and other assorted crud that constantly gets sprayed against your bottom bracket, it is easy to see that a high quality, well sealed, and easy to service bottom bracket can save the day.


Next time you visit the Braun Marketing web site (opening March 15th at http://brauns.com/braunmkt/), look up a basic cartridge bottom bracket and a Raceface Turbine RS. You will be amazed at the difference. The axle is made of heat treated cro-moly, then nickel plated. The bearings are double sealed, serviceable cartridge bearings, with a reinforcing sleeve to prevent damaging side loading of the bearings.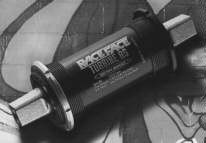 The Turbine RS comes in all the standard sizes and fits almost all cranks. It is not just another showy gizmo but a real part for real riding. Check it out... it is the best bike part you can buy for under $100.00 -- just $89.98Cdn!
---
Rigida DP18 and DP22 wheel sets are high performance aerodynamic wheels for road and mountain bike racing. These wheel sets are ideal for those looking for high performance wheels but don't want to spend the $1000.00 or more for a set of Tri-spokes or Spinergy wheel sets.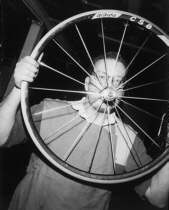 Rigida may not be as high profile as some other wheel companies but anyone who has been around bikes for awhile will recognize the name, famous for light, durable rims. These wheels are a fine example of how quality bicycle products are becoming less costly.

The front 700c wheel features a sleek sealed bearing hub and a deep aero rim (30 mm deep and 18mm wide) laced together with 16 bladed stainless steel spokes. The rear wheel has 24 bladed stainless spokes laced two-cross with a Shimano eight speed cassette. The hubs are Rigida's own piece of work and are some of the smoothest hubs around. These are seriously fast wheels for only $649.98Cdn a pair.

The 26" wheels use a heftier set of hubs. Twenty four stainless steel spokes tie together the deep section rims in a two-cross pattern. For $649.98Cdn a pair these wheels offer remarkable performance for the money.


For more information send E-mail to online@brauns.com
---
Full suspension bikes employ more moving parts than hard tails. More parts require more attention, so take these simple steps to maintain maximum performance, while avoiding time consuming trips to the repair shop!
Read and understand the owners manual. It offers important notes about warranties and service.
Keep the bike clean. Dirt acts like sandpaper on pivot bushings resulting in a loose feeling back end.
Keep everything well lubricated. Use thin waterproof grease on everything that moves.
Regularly check all nuts and bolts for proper tightness. Consult your owners manual or one of Braun's service technicians if you have any questions. Over tightened bolts can cause as much grief as bolts that are too loose!
Check the calibration of the shock. Again look to your owners manual for proper adjustment of the suspension.
---
Winter Bike Sale Now On at Braun's Bicycle & Fitness.

All 1995 bicycles on sale
Shop now for best selection
Limited quantities


Free layaway until April 1 with a 20% deposit - ask in store for details.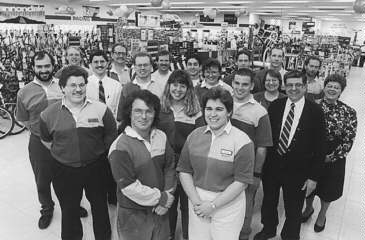 The staff of Braun's Bicycle and Fitness have 228 years of experience collectively in the bicycle and fitness business. Many of the staff have worked in the bike biz most of their careers. Read more about our staff in upcoming issues.
Brauns Online
27 Scott Street,
Kitchener, Ontario, Canada
N2H 2P8

E-mail: online@brauns.com
Fax: 519-579-8723
Phone: 519-579-BIKE

Internet Web Site: www.brauns.com
---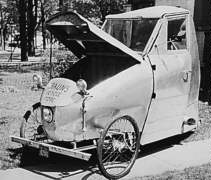 This three wheeled delivery vehicle was handmade by Willard Braun in 1949.
---
Starting Friday, February 16, 1996 at 7:00pm, Braun's Bicycle and Fitness will present a FREE one hour seminar on various cycling topics, for those in the southwestern Ontario Canada area.

Each seminar will look at different aspects of cycling equipment and safety.
Friday Feb. 16/96 - Bicycle "Lights"
Friday Feb. 23/96 - Basic Bicycle "Lubes & How/Where to Use"
Friday Mar. 1/96 - "Helmets" & "Safety"
Friday Mar. 8/96 - Proper Bicycle "Fitting" & "Sizing"
For more information or to register (space is limited), call (519) 579-BIKE or send E-mail to online@brauns.com
---
"A small & changing selection of bicycle accessories - Always On Sale - Changes Every Month!"
Each month, Club Tread offers specially selected cycling products at greatly reduced prices to those on its mailing list. The selection is different each month. Prices go as low as 50% off.
These specials, including pictures, are available at the Club Tread Monthly Bike Accessory Specials web site located at: www.brauns.com/specials
The current specials are only available until the end of February 1996, and only while supplies last. Shop early to avoid disappointment.
Club Tread -- Where You Save Money!
---
We hope you enjoyed this issue!
The Club Tread Report
---

Return
---
Click here to find out how to get on the mailing list for the Club Tread Monthly Newsletter.

Or use the easy form located at www.brauns.com/list.

Any questions regarding subscribing to the mailing list, or about the content of this or other issues, the Tech Tips, Product Reviews, etc., may be sent by E-mail to info@brauns.com.
---
The Club Tread Report

Return
---
The material on this web site, including without limitation The Club Tread Reports, is Copyright © 1995-1996, Brauns Online. All rights reserved. "Club Tread Report" and "The Club Tread Reports" are trademarks of Club Tread. All other trademarks are the property of their respective owners.
Another Web Site by BusinessLINK Technology Group Inc.
http://www.bltg.com/ctreport