©
Power In Presentation
Placed on boulevards where 12,000 to 26,000 vehicles pass daily - bench media will provide up to 9,000,000 dynamic visual impressions annually. For less than $4.57 per day.
Power In Choice
Choose from 6 & 12 month prepaid subscription plans with discounts, four season ad circulation, transit and bench package as well as volume discounts. 24 hour service guarantee.
Marketing Choice ... Marketing Power
Power In Integration
Whether your business employs T.V., radio or print advertising - Bench Media complements and reinforces any marketing campaign.
Available... Corporate Charitable Advertising Sponsorships...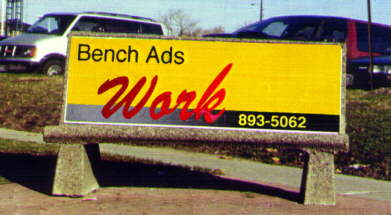 Space is Limited. Call ...
Canadian Bench Media Inc.
Kitchener, Ontario, Canada
Phone: (519) 893-5062 Fax: (519) 893-4536


©



Back to The Mall

Copyright © 1996, Canadian Bench Media Inc. All rights reserved. All trademarks, registered trademarks and other marks are the property of their respective owners.

Another Web Site by BusinessLINK Technology Group Inc.

http://www.bltg.com/cbm/